Changing shipping prices is a common need for WordPress website owners, especially for those running WooCommerce Websites. Changing Shipping Prices on WordPress for Your Online Store using WooCommerce becomes easier as it provides a user-friendly way to adjust shipping prices to meet your business requirements. Configure shipping methods, set rates for different shipping classes, and yes your site will be ready to provide a seamless customer experience. In this guide, we'll walk you through the steps to change shipping prices on your WordPress website.
How to Change Shipping Prices on WordPress? Step-by-Step Guide
Making your online store in your own way is not that tough while you are using WooCommerce it comes with all the necessary tools. Changing shipping prices on the WordPress site is not a very tough task. When you start customizing your WooCommerce site, open the dashboard, and follow a few steps ahead as follows:
Add Shipping Zone and Define Shipping Method
As you are starting, go to Settings from WooCommerce. From the top bar of the appeared window go to the Shipping section. Here you have to add the Shipping Zone, Shipping Region, and Shipping Methods for the zone.
You have to press the Add Shipping Method button and choose shipping methods from the drop-down menu. This is the basic step you must use before specifying the zone you want to serve with your product. However, if you have any confusion about adding a shipping zone to your WooCommerce site, you can visit HERE for a detailed description.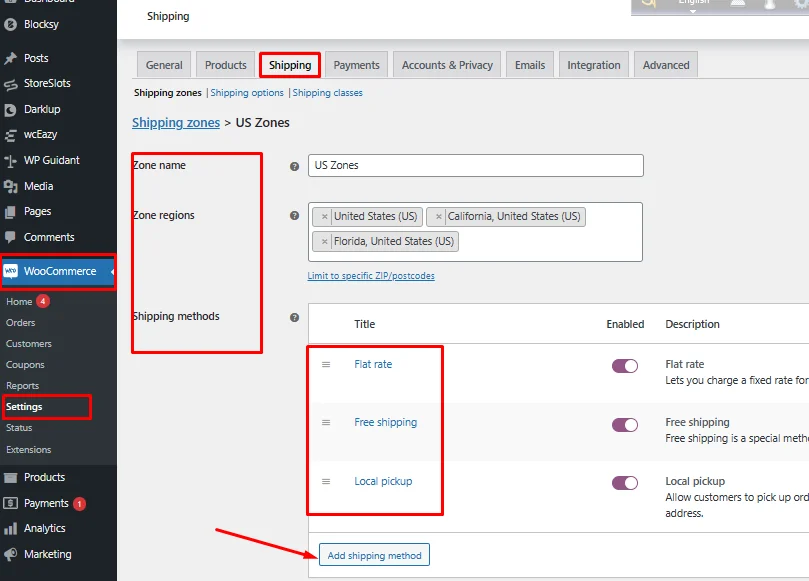 Now, when you have added shipping methods to specific zones you have to define the shipping price for them. Hover the cursor over the title of the Shipping Method and you will get to options- edit or remove.
Changing Shipping Prices for Three Basic Shipping Methods
As you already set up the shipping method for each zone, you know there are three basic shipping methods in WooCommerce, flat rate, free shipping, and local pickup. So when you have added them to appropriate zones, it's time to edit and set the shipping price.
Let's know how to Change the Shipping Price for each method one by one.
For Flat rate
Hover over the flat rate option and click Edit and a window will be opened as follows. Suppose you have opened the edit option for flat rate shipping method for a zone, here you have to enter the rate at Cost which you want to set as a flat rate.
In the below section of the window, you will see the list of shipping classes that have been added to your site.
Don't have any shipping class added to your site? Check how to use shipping classes in WooCommerce.
Here you can define the flat rate for different classes of products individually. After adding the flat rate for individual classes you will get an option below "Calculation Type" from where you have to choose per class calculation and then click Save Changes. Thus the price will be calculated for each class separately while checking out. You will understand the shipping calculation better if you know how does WooCommerce calculates shipping.
For Free Shipping
Similar to the flat rate shipping method, when you have to edit free shipping, go to the Edit option from the free shipping method. You will see a window with the following options.
For the free shipping method, you have to choose any of the options you prefer from the drop-down menu. If you want your customers to get free shipping for a fixed amount of shopping you can select this option. Again you can add a valid free shipping coupon option where the customer will need to have a coupon to avail of the free shipping option. For generating coupons for your WooCoomerce site, wcEazy can be a full-fledged solution plugin that contains a coupon generator module.
You can also select the options for your customer to get free shipping while having any of these two options or having both at a time.
After you select the preferred option from the drop-down menu, click Save Changes and you are done.
Local Pickup Setting
When you want to enable local pickup for your customer you have to divide your targeted area into more zones. That means you have to work with the shipping zone a little bit more. Here in the following example, you can see we have divided the US zones into three different regions thus we can offer the customers the facilities of local pickup.
The process for setting the local pickup method is almost similar to others. You have to click Edit from the edit option that appears below the zone name option and get the following window.
Here you will add the cost which is actually optional for the local pickup method. At the box of tax status, you can choose tax from the drop-down menu if you want to add tax on local pickup too. When you are done with the setting, click Save Changes and check the result.
Get Ready with Your Website
Before making your changes live, it's important to test your updated shipping prices to ensure they are working as expected. You can check the settings by placing test orders with various products and shipping options to confirm that the prices are accurate. If the test order goes right, your site is ready to be live for your customers.
Wrapping Up!
Changing shipping prices on your WordPress website is a simple process with WooCommerce. By following these steps, you can easily customize your shipping costs to give your customers a more enhanced and reliable shopping experience.
So, take the first step to your shipping strategy today and provide accurate shipping rates to your customers. Remember to review and update your shipping prices regularly as your business evolves to maintain transparency and customer satisfaction.